Hydraulic Hose >> SAE 100 R7/R8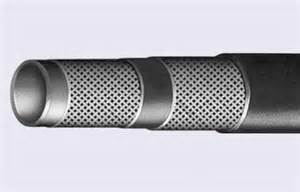 High Pressure Fibre Braided Rubber Resin Hose: SAE 100 R7/EN855 R7 STANDARD
Structure and Capability : This kind of hose is made of Inner Tube (Nylon), reinforcement (High Flexibility Nylon or Thermoplastic).
It is Ethereal, Flexible, and the inner tube is vety Smooth. With a few loss of Pressure, the hose resistance of the Medium flowing
is small, and it also owns a fine performance of Anti-chemical and Impulse.
Application : Automobile, Engineering Machinery, Lathe,Agriculture Machine, Mining, Spurting the Oil Paint, Navigation&Spaceflight,
Cooling and other Hydraulic Control System.
SAE100 R8/ EN 855 R8
DN

Hose I.D

Hose
O.D

Working
Pressure

Burst Pressure

Minimum Bend
Radius

Weight

Length

inch

mm

mm

MPa

psi

MPa

psi

mm

kg/m

meters

5

3/16

4.8

13.1

34.5

5000

137.9

20000

38

0.115

20-100

6

1/4

6.4

15.9

34.5

5000

137.9

20000

51

0.176

20-100

10

3/8

9.5

19.4

27.6

4000

110.3

16000

64

0.220

20-100

13

1/2

12.7

22.7

24.1

3000

96.5

14000

102

0.283

20-100

SAE100 R7/ EN 855 R7

DN

Hose I.D

Hose
O.D

Working
Pressure

Burst Pressure

Minimum Bend
Radius

Weight

Length

inch

mm

mm

MPa

psi

MPa

psi

mm

kg/m

meters

3

1/8

3.3

8.5

17.2

2500

68.9

10000

13

0.037

20-100

5

3/16

4.8

10.8

20.7

3000

82.7

12000

20

0.068

20-100

6

1/4

6.4

13.0

20.7

3000

82.7

12000

33

0.085

20-100

8

5/16

7.9

15.1

17.2

2500

68.9

10000

46

0.103

20-100

10

3/8

9.5

17.0

15.5

2250

62.1

9000

51

0.141

20-100

13

1/2

12.7

20.7

13.8

2000

55.2

8000

76

0.210

20-100

19

3/4

19.0

27.1

8.6

1250

34.5

5000

127

0.287

20-100

25

1

25.4

34.0

6.9

1000

27.6

4000

203

0.542

20-100