Sand Blast Hose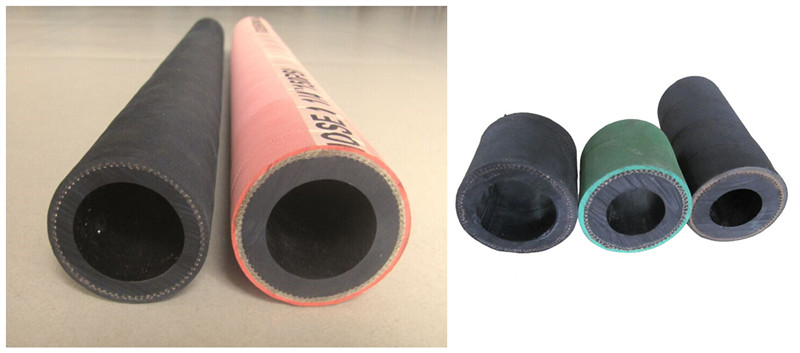 Sandblast Rubber Hose
Sandblast Rubber Hose is a rubber hose delivery quartz and metal sand, polishing, ridding rust on metal surface and spreaying
cement, which used for the conveyance of highly abrasive materials in sandblasting / cleaning and general maintenance in
construction, shipyards, power plants and equipment tental. Flexible rubber abrasive sandblast hose | sand blast rubber hose
is lightweight to reduce operator fatigue. As your request, carbon black or anti-static wire add to retard static electricity.
Application: handles castings, steel, stone, sand, cement and other abrasive materials in sandblasting service.
Characteristics: high tensile; wear, weather, ozone and aging resistance
Working temperature: -20 TO 80℃
Safety factor: 1:3
Technical parameters:
Hose lining: NR, SBR, BR blend
Reinforcement layer: tire cord with helix wire
Cover rubber layer: SBR
ID

OD

Length

Bend Radius

WP

Weight

inch

mm

inch

mm

Ft

M

inch

mm

Psi

kg/cm2

kg/m

1

25.4

1.701

43.2

200

60

6

150

200

15

1.38

1 1/4

31.8

1.953

49.6

200

60

8

200

200

15

1.6

1 1/2

38.1

2.232

56.7

200

60

10

250

200

15

1.91

2

50.8

2.772

70.4

200

60

12

300

150

10

2.6

2 1/2

63.5

3.272

83.1

200

60

15

375

150

10

3.1

3

76.2

3.811

96.8

200

60

20

500

150

10

3.95

4

101.6

5.047

128.2

200

60

28

700

150

10

6.48

5

127

6.091

154.7

100

60

40

1000

150

10

8.48

6

152.4

7.177

182.3

100

60

48

1200

150

10

11.07
Total: 1
Page: 1 / 1
First
←Previous
Next→
End